The Ashes
I mentioned below about cricket, and the mighty Ashes.
The Ashes, the mighty trophy that two countries go to sporting war over regularly.
5 Games, over 5 days, 25 playing days in total to win the Ashes.
The most important trophy in the cricketing world, and only two nations play for it.
Now, prepare yourself to be amazed by:
THE ASHES!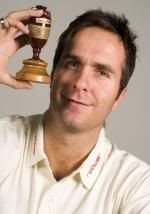 Bloody huge isn't it!
cheers
Dave.
PS Don't know who the goofy one is holding it. Most likely a Pom. ;-)