My writing area.
Lee Goldberg asked people to post pictures of their writing areas, just got a digital camera so thought I would try it out. Apologies for poor lighting.
My Dad who is a retired builder helped me build, and install that bookcase. It's my favourite place in the house.
I like to call it My Wall of Knowledge. :) Yes, it may be the Wall of Crap, but it is cosy. Yes, Twister does get a workout sometimes. Love my joystick longtime :)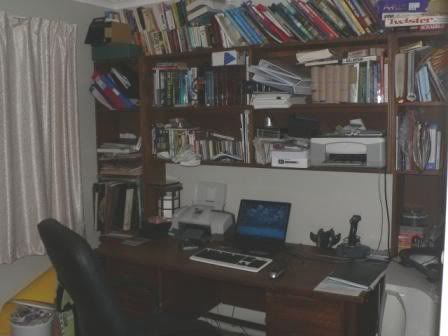 I now give you, opposite the Wall of Knowledge, the Couch of Inspiration, where many a good idea has come from. :)
BR>
The couch is low enough that my children can hit me in the face to wake me in the event I have too much inspiration. Yes, that is washing at the end. It doubles as the Couch of Anything. It has a busy life.
cheers
Dave.